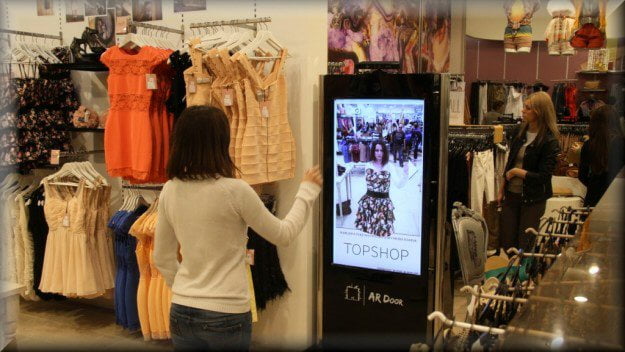 There are many AR uses. Augmented reality mirrors can virtually change the image of the scene reflected in the mirror. Some call it as ARMs. In general, The AR systems combine virtual and real objects in real time. These are usually referred as digital mirrors.
The research community and some industries have invested in the design and construction of these mirrors for different purposes. Here are some examples and various uses of  " Augmented Reality Mirrors " :
1- Amazon has patented a mirror that dresses you in virtual clothes
This provides a 'blended reality' view of yourself wearing outfits in various virtual locations. A camera at the top of the mirror tracks the user's body. And then a screen behind the reflective panel illuminates the picture. You could visit a virtual beach and then have the mirror dress you with virtual t-shirts and shorts.  And it also has the capability to follow you as you walk around.
2-"Sephora" Augmented Reality mirror
"Sephora", a leading retailer of beauty products has launched a new 3D augmented reality mirror in partnership with "ModiFace" , in Milan, Italy. It simulates cosmetics on user's face realistically in real-time.
This new technology introduced in 2014 and it makes the color testing easier by simulating makeup products on a user's face.   It is also introduced in standalone retail kiosks equipped with a touchscreen monitor and camera. Furthermore, this application is also available in mobile version.
The "Sephora" interface tracks the location of a user's facial features and applies eye shadow colors directly on the video feed from a camera. "Sephora" customers have access to many cosmetic colors and virtually by tapping on a shade palette on the screen.
3- Other beauty products;  "Estee Lauder"'s "Bobbi Brown" Cosmetics and "Maybelline"
Similarly, "Bobby Brown" line have been using Augmented Reality. Last October, the brand implemented an interactive campaign  that enabled users to browse and purchase beauty products by scanning a picture.
"Maybelline" ran a campaign as well last year that used AR to let consumers virtually test nail polish shades. And, "CoverGirl" featured the technology as a component to a print media buy last fall.
 4- "TOPSHOP" AR mirror in Moscow store
"AR Door" is a Russian agency specialized in Augmented Reality solutions. They have teamed up with "Topshop", a woman and man clothes retailer, to create a virtual fitting room for a new collection.
A special mirror installed at the "Topshop" store in Moscow in May 2011. This virtual fitting room built on the most sophisticated technologies with augmented reality and "Microsoft Kinect".  Augmented reality allows the customers to select a garment off the rack without having to try it on physically. As a customer, you see yourself on screen with a 3D copy of a dress. Finally, "Kinect" allows the user to control the program by simple gestures pushing virtual buttons in the air.
For cxocARd demo: