How augmented reality helps the work space
How augmented reality helps the work space.More and more our everyday life is being surrounded by different types of technology.
Work Performance
It's going to take a while, but augmented reality will completely reshape the way we work. Even the first phase—simply layering digital information and objects over the real world—will help you to do your job faster than normal. Big companies like Facebook or Microsoft, are building the hardware and software to develop the perfect AR workplace. The companies struggle with what happens in the second phase of AR work as well. Once people get used to the virtual office enough to not worry about documents and files, once meetings become multiplayer games and interoffice memos become post-its automatically put on everyone's desk. That's when things really change like cameras that are always present led to. We'll come up with completely new ways to get things done when we're always inside an AR display.
Workplace Privacy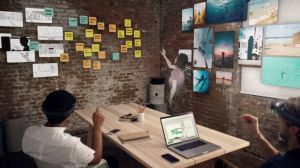 Work spaces in augmented reality will transform the way you do your everyday job. Soon enough, your personal office or cubicle can be as messy or private as you like because. You'll be the only one who is able to see it.
Picture this. You get to your workplace, take a seat at a free desk and log in to your AR headset. The entire office appears before you, but now it's filled with hovering icons of the apps and bookmarks you use every day. You tap one and a browser window opens. Your Facebook feed is streaming to your left and to your right is the last document you were working on.
This type of headset technology has been used by NASA engineers to help construction of space crafts.
The early days of virtual and augmented reality have focused mostly on the gaming industry like Pokémon Go . Most of the people developing mixed-reality tech think the venue where AR will really thrive is the workplace.
A recent report reveals half of businesses not using AR will adopt these technologies in the next three years. Out of the companies already using AR 82% claim the benefits are meeting or exceeding their expectations.
For cxocARd demo: