Daily Use of Augmented Reality – Five examples
Augmented reality is now in our life permanently. Why dont you integrate one of of the AR application in your daily life? You can choose one of the applications below and try. Or you might have already tried them without realizing. Here are some examples of daily Use of Augmented Reality.
What are my choices for Daily Use of Augmented Reality ?
1. How about museums?
Casa Battlo by Gaudi in Barcelona is a good example. It is currently an empty multistory house with a lots of intriguing architectural parts. Visitors are given an AR device called "SmartGuide". It enhances the experience as you hold the device over certain areas. You can view the house fully furnished as it was in the original era and in 11 languages.
And The Franklin Institute in Philadelphia also uses AR. Finally, visitors can use the institution's application to view augmented reality renderings to better understand the mystery of the Terracotta Army.
2. Would you like to sell through AR?
IKEA Place 
uses Apple's AR tech to help users make shopping choice from Ikea. The app uses your phone's rear camera to scan a room and place IKEA furniture in the room virtually.
Another example would be sportswear giant Nike. They have recently filed a U.S. patent for augmented reality golfing glasses which is a wearable display linked wirelessly to a digital golf ball with sensors. Thus, it aims to measure its speed, trajectory, and spin rate as well as the distance it travels.
3. Headsets
Dr. Allen Yang of the Center for Augmented Cognition at the University of California, Berkeley says AR headsets are not for everyone yet. "Most of the applications on AR glasses are for early prototyping in engineering, expert applications, and some limited medical support trials," he says.
Dr.Yang says it could take about five years for augmented reality to find wide acceptance.
4. Business cards
CXOCARD is a good example of Daily Use of Augmented Reality. For example 
CXOCARD
 is one of the successful applications in the field. All you have to do is download the application and the video from the business card owner can be viewed on their business card.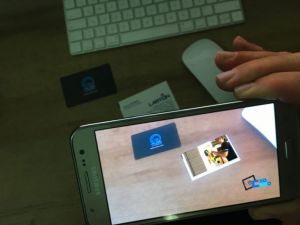 5. Navigation
Finally, a good example is ARCITY, Explore and navigate over 300 cities worldwide using augmented reality (AR). Follow 3D directions to never get lost again!
Just select a destination, tilt your phone up and follow the path of arrows shown in augmented reality. Then again, just tilt your phone back down at any point to revert to a standard map.
For cxocARd demo: