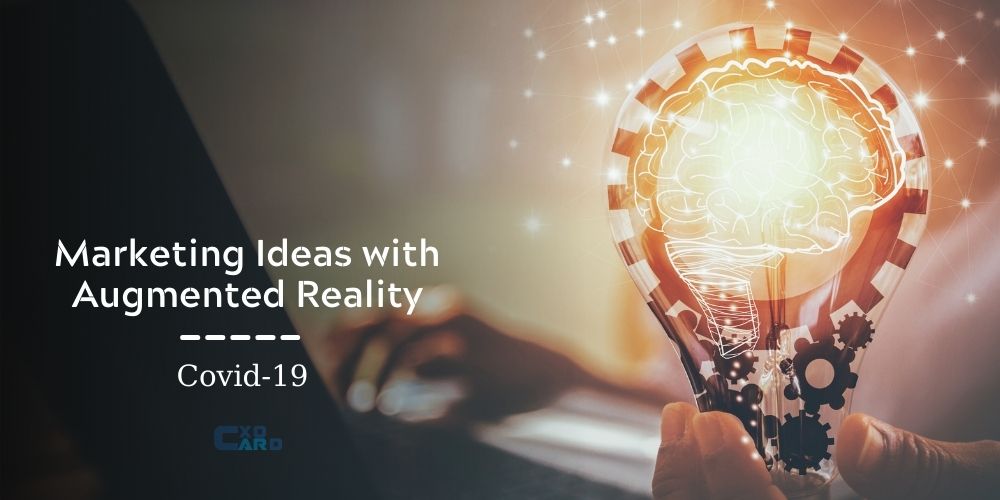 Covid-19 started in 2019 and has affected the whole world. Marketing strategies have changed with Covid-19.
Augmented Reality is one of the most innovative tool that you can use for your business marketing. In this pandemic, there have been great changes in both social life and business life. People prefer video calls to keep social distance, even to socialize and meet their relatives. Almost all schools and universities continue their education online. With such great changes in our lives, our task is to adapt to the situation in the best possible way.
It is time to switch to contemporary, innovative and fast applications due to both Covid-19 and our changing and developing technology. Accordingly, marketing strategies have also changed.
cxocARd can be used in many areas from brochures to business cards, from books to show rooms. In the example below, we can see how to use cxocARd in the show room. Thanks to the augmented reality, we can watch the video determined by ourselves on the specified area (target). In doing so, besides innovation and attractiveness, you can also develop a marketing strategy against Covid-19. So much so that no contact is required in cxocARd thanks to augmented reality! You can directly explain the sections you want to introduce to your customers and the places you want to give information to with video.
Augmented RealIty In your Show Room
The augmented reality application can be used as a promotional tool for products in showrooms. Social distance should be maintained against the risk of Covid-19. So, there will be those who want to examine products and collections with a mobile application. cxocARd can be used at this stage.
Augmented RealIty for your TechnIcal Data Sheet
Another example is cxocARd playing the video describing the structure on the drawings. Based on this example, you can get plus points in the fight against Covid-19. So much so that you can provide your customers with a short time to watch the installation video of a product or provide information to your staff without directly contacting them.
Augmented RealIty for Product Package
Did you know that you can use augmented reality in your product packages? As a marketing strategy, you can publish your product on your packages. With the Covid-19 process, the way to gain competitive advantage is augmented reality.
With Covid-19, there have been changes in marketing strategies and will continue to be. cxocARd is an application that should be evaluated for Covid-19. It has the advantages of fast installation, fast operation and not requiring direct contact with a human. After you determine your marketing strategy, we think that it will be a subject that you can definitely benefit from cxocARd. With all the advantages we mentioned above, cxocARd and therefore augmented reality can affect your marketing ideas in the Covid-19 process.
marketing ideas for augmented reality ın covid-19 pandemic
You can test your case in the same day ! cxocARd offers free demo , free to test , no coding and world wide availability AR experience ! Let's look what you need  ?
1- Augmented Reality Content
You need content for creating AR – Augmented Reality for your Catalog, Brochure, Business Card ! These contents are ;
image / scan / design of your printed material : we call it target . You can scan or take photo of your printed material if you have the pdf file of the design this also works.
video content : cxocARd will recognize your target and starts to Augment your video content on your printed material. We are accepting video content by YouTube , Vimeo links most of the companies publishing their video content on these platforms.
Here is form you can easily request your first demo ! We are activating your setups in max 24 hours.  Please also check our FAQ 
2- Set-up 
We will inform you about your setup via email . This takes max 24 hours generally takes 1-2 hours. ( We are in GMT +3 time zone ) There are 2 reasons that we are not making this process auto ;
According to our policy we are responsible for contents – we are not activating inappropriate content ( porn etc )
Connecting with our potential users and guide them is important for us.
3- Try your Free Demo 
After getting activation mail from us. Your demo is ready you can test your Augmented Reality – AR experience for your business card, brochure, catalog etc.
For inspiration you can also check our instagram profile for more cases !
Why your product package is not engaging with your customer ?
For demo: